Battery life 10h in training mode (up to 40h with power saving options)
Convenient wrist HR measurement
GPS/GLONASS route navigation
Steel bezel, mineral crystal glass, 100 m water resistance
Sport expertise and support for over 80 sports with racing and interval use
Training insights and community powered tools in Suunto Movescount
THE GPS WATCH FOR ATHLETIC AND ADVENTURE MULTISPORT 
Suunto Spartan Sport Wrist HR Baro is a multisport GPS watch for active outdoor athletes. Compass & barometric altitude with FusedAltiTM ensure you stay on course. The durable color touch screen, 100m water resistance and practical wrist HR measurement make Spartan Sport Wrist HR Baro your ideal training and racing partner for running, cycling and outdoor sports.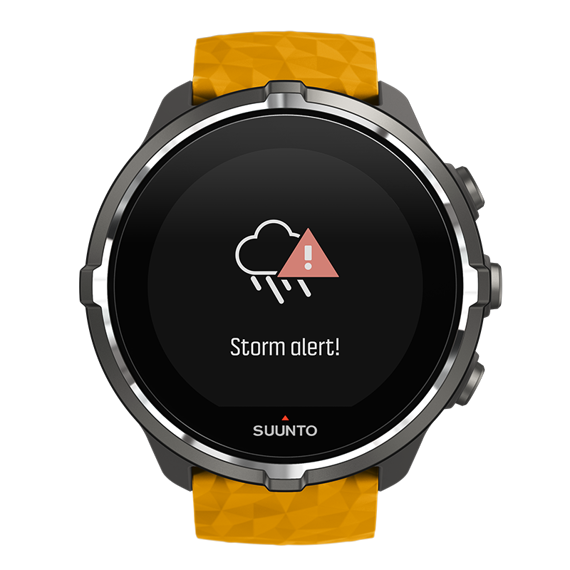 COLOR TOUCH SCREEN OPTIMIZED FOR OUTDOOR USE
Suunto Spartan watches use a state-of-the-art color touch screen with a wide viewing angle that offers great visibility outdoors, even in direct sunlight. The touch screen is optimized to withstand disturbances from the environment, and it can be locked fully if needed. During exercise, the watches can be operated using the three buttons.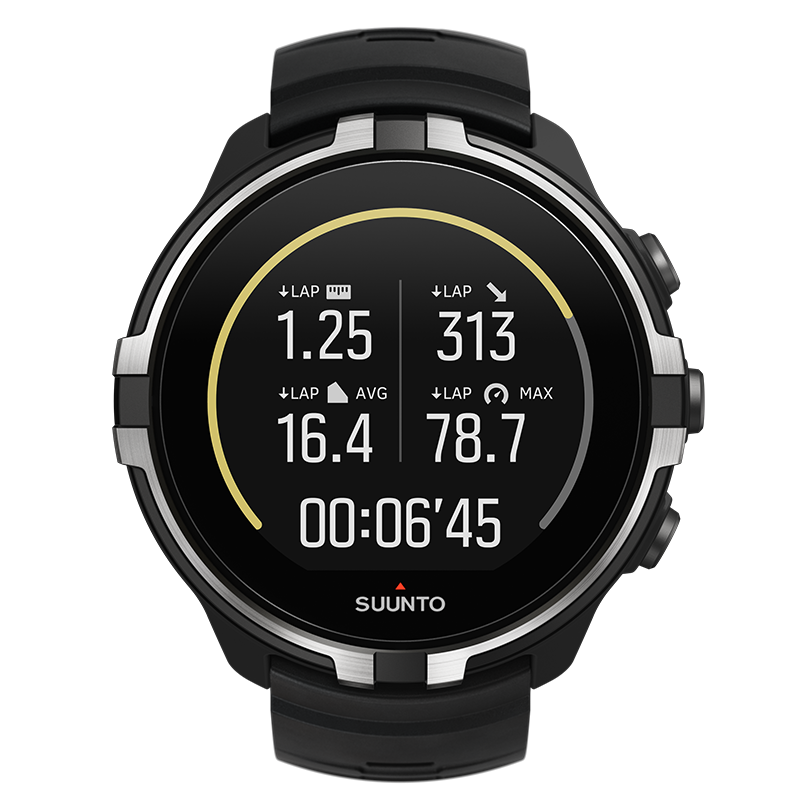 UP TO 10H BATTERY LIFE WITH GPS
The lightweight Suunto Spartan Sport Wrist HR Baro has a battery life of 10h with GPS. You can control the battery life of your watch by adjusting the settings and the GPS tracking accuracy in Suunto Movescount.

ADVENTURE FEATURES
For your sports adventures, Suunto Spartan watches provide rich route navigation including breadcrumb view and digital compass to guide you through new terrain.

24/7 ACTIVITY TRACKING
In addition to tracking heart rate during exercise, the Suunto Spartan Sport Wrist HR Baro watch enables you to follow your activity throughout the day. The daily heart rate functionality tracks your heart rate, and together with steps taken, provides more accurate data about your daily activity levels and calorie consumption on a 12-hour graph. The daily heart rate screen also displays your minimum (rest) heart rate, making it easier to monitor recovery
UNRIVALLED DURABILITY
Suunto Spartan Sport Wrist HR Baro has a racing-inspired sleek design, featuring mineral crystal glass, stainless steel bezel and water resistance of 100 m (300 ft). Spartan Ultra and Spartan Sport watches are hand-built in Finland.

80 SPORTS TO CHOOSE FROM
With 80 sport modes pre-installed in the watch, Suunto Spartan watches are ready to go for nearly any kind of activity right out of the box.
Spartan watches provide sports specific metrics and rich ways to display it while training for sports like running, cycling, swimming, triathlon and various adventure sports, such as hiking or ski touring. Carefully designed sport-specific displays give you accurate feedback relevant to your sport.
For most popular sports like running and cycling, dedicated purpose specific sport modes such as interval running, obstacle race running and treadmill are also available. In interval running, for example, you can see your latest interval times with average heart rate in the lap table display while running.
Enhanced navigation and new ski features
Advanced navigation features brought by the software update include route navigation improvements with estimated time of arrival (ETA) and remaining distance to destination. Point of Interest navigation is improved with approach alarms (the watch will display a clear on-screen notification when nearing a pre-defined POI). Sunrise and sunset times are available both in daily use and during a sport mode, thus improving safety when adventuring out in the wild. The Spartan Ultra and Spartan Sport Wrist HR Baro will also deliver storm alarms based on changes in air pressure.

Alpine and backcountry skiers will benefit from the new ski features in alpine sport modes that bring even more data about their sport on-screen. The new features include a run counter, display of run lengths, verticals and maximum speed during descent. 
DISCOVER NEW ROUTES WITH HEATMAPS
Use heatmaps on Suunto Movescount and Suunto Movescount App to find the most popular places to run, ride, swim, ski and more. Heatmaps for more than 15 sports reveal the tracks frequently used by the Suunto Movescount community all over the globe, based on millions of Moves. 

You can plan your own routes on Suunto Movescount with the help of rich, topographic maps. Trace a heatmap, or go your own way. Connect to your compatible Suunto sports watch and navigate the route with your watch.
Learn more about discovering new routes.
Go to heatmaps on Suunto Movescount.
In the box
Suunto Spartan Sport Wrist HR Baro Amber
USB cable
Quick Guide